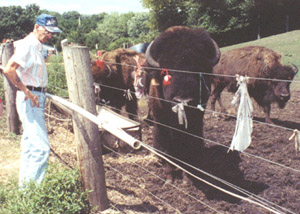 Native Village News

www.nativevillage.org/Editorials/passing_of_grandfather_Gerry.htm

Phote:  Gerald Pierce at fence with JYBD (Miracle's partner) and Miracle (far right)

Photo Courtesy of Miracle's Website

www.homestead.com/WhiteBuffaloMiracle/index.html

The Passing of Gerald Pierce

A message for our friends and for those who have joined Native Village in celebrations for Miracle, the Sacred White Buffalo:

Gerald Pierce, 79, father of Valerie Heider, passed onto the spirit world February 7, 2005. Val and her husband, Dave, were caretakers for Miracle, the Sacred White Buffalo before she died in September.  Grandpa Gerry was so very honored by Miracle's blessing and, in his old age, helped as much as possible with her care and with greeting the constant flow of pilgrims and visitors who came to see Miracle 24 hours a day, 7 days a week.  Our world has lost a good man from a good family.

Arrangements are pending at Henke-Clarson Funeral Home, Janesville.

If you would like to send the family a card, the address is:

Dave and Valerie Heider

2739 South River Road

Janesville, Wisconsin 53546