Miracle,

The Sacred White Buffalo

August 20, 1994 ~ September 19, 2004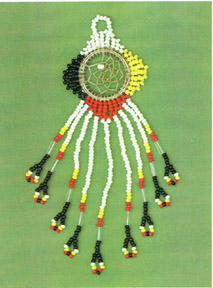 "Miracle has touched many lives and restored faith in humanity.  We did not have to go see the World.... the World came to us."    - Valerie and Dave Heider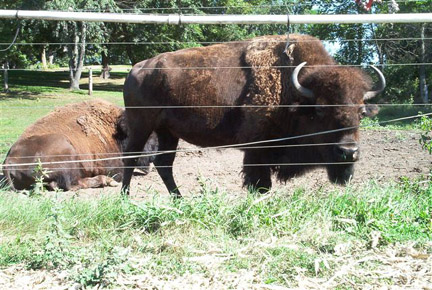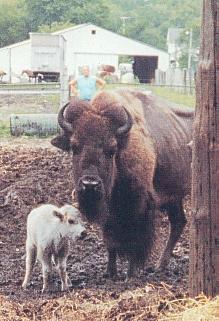 Miracle Walks On....

by Stephanie M. Schwartz,

Correspondent and Editor, Wambli Ho News

www.wambliho.com

Volunteer Webmaster, Miracle's Website

www.whitebuffalomiracle.homestead.com

Member, Native American Journalists Association (NAJA)

On the Scene:  September/October, 2004  Janesville, Wisconsin

Sadly, and unexpectedly, on Sunday, September 19, 2004, Miracle, the Sacred White Buffalo, died at 11:07a.m. from natural causes at her small farm near Janesville, Wisconsin.  Her human mother, Valerie Heider, and Miracle's veterinarian were with her.

Miracle had begun failing on Friday and by Sunday morning had rolled under the fence by her gate and laid down next to her father's grave, not to rise again.  Val and Dave Heider, her caretakers, did not force her back into the pasture but stayed with her there as Miracle's four daughters and bison mother stood in a pasture nearby.

Miracle was buried there right next to her father, just to the side of the gate to her pasture.  An enclosing wood rail has been laid to mark the two graves.

Miracle, born white on August 20, 1994, started changing colors within months.  In fulfillment of certain prophecies of numerous indigenous cultures, she had turned all colors of humanity.... white, black, red, yellow, brown.  Many people had expected her to eventually return to her original white as she aged.  Buffalo often live to be 25 to 30 years old, especially in the kind of protected environment which was her home.  It is to be noted that Miracle was not an albino but a true rare white buffalo.  She gave birth to four calves over the years which were named Millennium, Lady Miracle, Mitakuye Oyasin (We Are All Related) and Miracle 4.  She was not pregnant at the time of her death.

Miracle, the Sacred White Buffalo, was a sacred symbol of hope and prophecy to many American Indian Nations, Canadian First Nations, and other cultures, religions, and spiritualities.  She was the first of the Sacred White Buffalo to be born since 1933.  Miracle had just celebrated her tenth birthday on August 20, 2004.  Reportedly over 300 people attended the festivities that day.

On September 30, 2004, a gathering of a very different sort stood in the Fall sunshine of the Wisconsin farm.  Valerie and Dave Heider, Val's parents (Grandfather Gerry and Mrs. Doris Pierce), devoted next-door neighbor Doug, and about 50 people surrounded Oglala Lakota Sioux Medicine Man Floyd [Looks for Buffalo] Hand who had journeyed there from the Pine Ridge Reservation of South Dakota.  As a traditional Drum group sang sacred Lakota prayer songs, sacred food, cedar, a wahluta (a special prayer bundle) and other items were placed on the grave.  A small stuffed animal left by a child for Miracle also sits atop her grave.

Hand prayed and spoke of loss and hope and responsibility.  He spoke of the impelling need for everyone there, and everywhere, to pay attention to Miracle's life and her message.  He related how Miracle had given humanity ten years of her life and now her journey home indicated it was time for humanity to carry on her message of hope and peace for humanity and healing for Grandmother Earth.

Then, under a clear sky void of the hawks that often circled Miracle's pasture, with a silent sorrowing crowd of people, Floyd Hand carried out a traditional Sacred C'anunpa (Pipe) Prayer Ceremony.  After the filling of the C'anunpa, Hand allowed Art Shegonnee (MenomineePotawatomi)  to take the C'anunpa and touch each person's shoulder in blessing (if they wished) after which Hand smoked the sacred tobacco in silent prayer, drumming and sacred songs filling the air around him.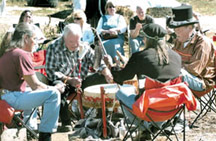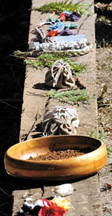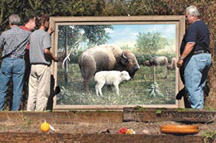 Please be patient, page loads slowly due to numerous photographs

These Three Photos © and Courtesy of

The Janesville Gazette

"Ceremony honors legacy of Miracle the white buffalo"

A traditional feast of soups, fry bread, and other foods had been prepared by volunteers and was served in the farmyard after the ceremony.  Here, amidst the people talking and imperious farm geese, a few chickens, top knot ducks, and two rescued Canada geese strutting about, horses watching, and the occasional cat moving from lap to lap, hope began again.  With Floyd Hand's words and prayers echoing in their heart, these fifty or more people of various races and nationalities (some American Indian, some not) began to speak of still feeling the strong spirit of Miracle everywhere.  They discussed how they might continue her hope, love and message of peace, harmony and healing.

Additionally, tentative plans were made for a traditional one-year memorial ceremony for Miracle in September, 2005.  Many of the long-time volunteers also indicated a desire to continue the birthday celebrations each August as way of honoring Miracle and those things she represented.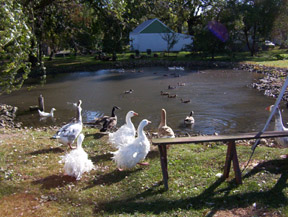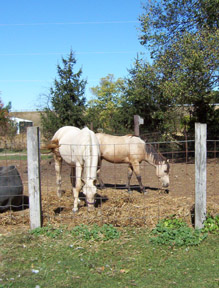 Val and Dave Heider, Miracle's caretakers, have spent the last ten years dedicated to taking care of Miracle, honoring that which she symbolized.  They opened their farm, family, and lives day and night, at no financial charge, to the thousands of people who came to pray with Miracle, or to pay their respects, or simply just to see her.  Stunned by her death, grieving at the loss to them which was like losing a family member, the Heiders still continued to try to help the people there that day as they compassionately listened to each person who approached them.

The Heiders said, "Miracle has touched many lives and restored faith in humanity.  We did not have to go see the World.... the World came to us."  But they know life will change now.

However, the Heiders had been told long ago by an American Indian spiritual leader that visitors would continue to come to honor Miracle even after her death.  So it seems it will be.  Throughout the day, at least another hundred people journeyed to Miracle's grave.  While the numbers have begun to diminish since then, the farm remains open, free of charge as always, to any who wish to come and make prayers and pay their respects.

Finally the crowd dwindled to the Heiders and a remaining 16 long-time volunteers and friends of Miracle who had decided to stay for several more days, many of them able to do so thanks to the generosity of the Baymont Inn in Janesville, ever a friend to Miracle and the American Indians who came to her.  As night descended, a campfire was lit and the sharing of "Miracle stories" began, a process of healing that brought as much warmth as the fire.  And, as these few people shared their life-altering stories with each other and with the Heiders, many more throughout the world started writing their own stories in the website guest book or by emailing the webmaster on Miracle's Website.  There is no question that Miracle's decade of life touched thousands of lives on all continents, within all races, many religions, and countless hearts.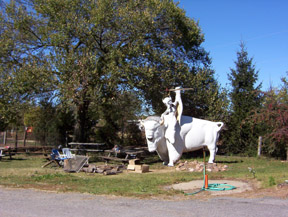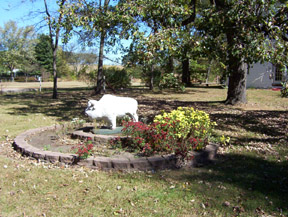 Small statue originally at the Farm Entrance and now found at Miracle's Gravesite ---->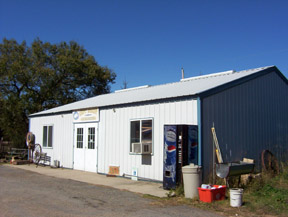 <---- Farm Shop and Miracle's Little Museum

The next day, Lakota Sioux Chief Arvol Looking Horse, Miracle's Lakota spiritual guardian, arrived early to spend a short time alone with his wife at Miracle's grave, in prayer.

Later that day and for two more days, Ho-Chunk Elder Joy Buck and Lakota Elder Dorine BrownEagle led talking circles.  Originally they were intended for the women.  But the talking circles soon became inclusive of everyone as the healing so prevalent in them drew the men in as well.  Ending with personal or group sacred pipe ceremonies, the prayers, sharing, and stories were all used to keep the sacredness alive as the mending of hearts continued.

Each night, the Heiders hosted a campfire where they and the volunteers refused to let go of the hours together.  For four days, Miracle's life was celebrated by those whose lives were dedicated to her.  On the fourth day, volunteers Mike Bryan and Rocco Sherman planted colored mum plants at the gravesite at each of the four directions and small cedar bushes between the plants.  The wood rails outlining the gravesites had already begun to fill with prayer gifts, left by the visitors of the last four days.  A shirt bearing a powerful drawing of a white buffalo and a sticker proclaiming "One Human Family" stands on branches in one corner.

For the Heiders, for Miracle's volunteers, and for the innumerable people whose lives she touched, Miracle will always be alive.  She has walked on, journeyed home, but her spirit lives on in the sacred land where she was born and in the hearts of those who knew her, those who loved her, and those who will continue to be empowered to carry on her message of hope, love, peace and the world harmony and healing which she represented.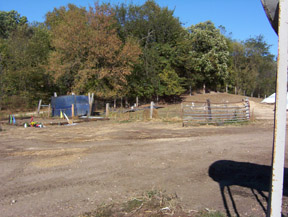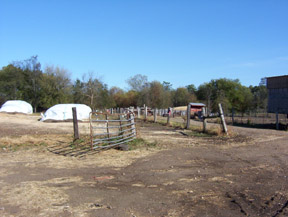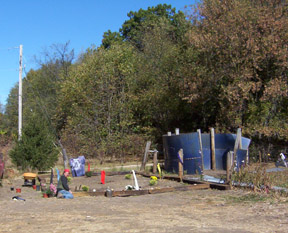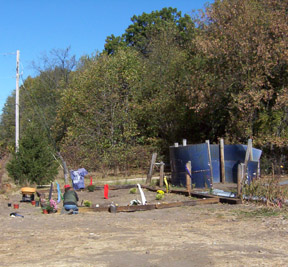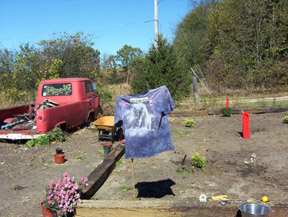 Mike Bryan plants the mums and cedar bushes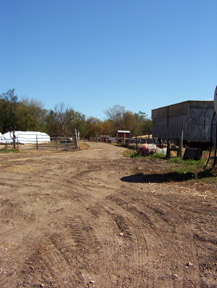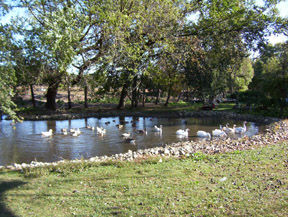 <---- Miracle shortly after birth with her mother August 1994

Miracle - Age 10 - August 2004